Group History of Cape Atlantic Intergroup of AA
Cape Atlantic Intergroup was formed on April 28, 1976. Our meetings were formerly listed with South Jersey Intergroup until this time and in the Philadelphia area meeting list in the 1940's and 1950's.
As people flocked to the Shore, AA meetings were started in Atlantic City (1946), Cape May (1947) and Ocean City (1948). Many of these members were from the Philadelphia or Camden area. Early members of the Atlantic City Group (Room 41) started meetings in Ventnor, Margate (1953), Brigantine (1956), and Absecon. Some of the groups started in the 1950's include Beach Haven (1957), Island Heights (1957), and Wildwood-Villas (1958-59). In the early 1970's, groups formed on the Mainland; Linwood, Somers Point, Mays Landing, and Pleasantville.
As meetings along the east coast in Cape May, and Atlantic Counties grew, so did the need for a more Central Office to field phone calls from the suffering alcoholic. The Linwood Group paid for the original Answering Service in the early 1970's. Members from Somers Point, Linwood, and other Groups were instrumental in writing the By Laws for the new Intergroup. 
The first Cape Atlantic Intergroup office was located at the Fire Hall in Somers Point, then to Cardiff Circle, to Pleasantville, and to its current location on Fire Road in Egg Harbor Twp.  Phone volunteers would go into the office to fulfill their 2-hour commitment and keep a log of the type of calls received. Groups brought meetings to local Recovery Centers and Shore Memorial Hospital.
As the number of groups grew, Intergroup had the meeting list professionally printed. New committees were formed to cover the needs the growing area. When the Internet arrived, there was controversy over having a website.  Anonymity. Now our website is where newcomers look for meeting or service.
Cape Atlantic Intergroup adapted to the COVID Pandemic in Spring of 2020 by providing groups with virtual meeting space. As AA members grow, so will Cape Atlantic Intergroup.
---
AA in New Jersey
Early AA History in NJ
A link to Northern Jersey Archives site: https://www.nnjaa.org/service/archives/archives-index.html
---
Cape Atlantic Intergroup Archives Mission Statement
Promote knowledge and understanding of the origins of Alcoholics Anonymous.
To collect, protect, and preserve the rich history of Cape Atlantic Intergroup and how AA evolved in this area.
Contribute to the Archives Committee
Update your Group History – CLICK HERE!
Get involved in the Archives Committee work – email:  archives@capeatlanticaa.org 
Archives is a continuous work in progress, and much work still needs to be done.  How can you help? Write your Home Group's History,  gather stories of Long Timers (written or recorded),  or if you would like to contribute your time, contact us at:  archives@capeatlanticaa.org 
---
About AA History
If you are interested in learning more about the history of AA, click on the links below.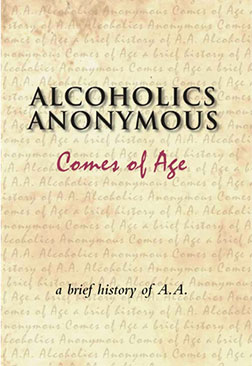 Read the book Alcoholics Anonymous Comes of Age
Bill W. tells the story of how the A.A. Fellowship grew, from its beginnings in New York and Akron to its spread across the country and overseas. Through the lens of the Three Legacies of Recovery, Unity and Service, Bill explains how the Twelve Steps, the Twelve Traditions and the Twelve Concepts for World Service evolved. Closing chapters share the perspectives of early "friends of A.A.," including Dr. Silkworth and Father Ed Dowling. With 16 pages of archival photographs.
AA History from the AA General Service Office:
https://www.aa.org/pages/en_US/archives-and-history
---